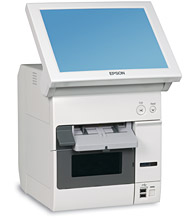 Epson ColorWorks C3400-LT Label Terminal – An All-in-One Label Printing Solution
Printing labels and tags for manufacturing, logistics, retail, healthcare, and other industrial applications just got dramatically easier thanks to Epson's ColorWorks C3400-LT (label terminal) printer. The C3400-LT is more than just a label printer; it's an integrated label printing system containing everything needed in a compact, easy-to-use unit.
The C3400-LT is a label printer, designer, computer, and touchscreen kiosk bundled into one compact machine. This standalone unit eliminates the need for a network connection or PC, making it perfect for areas lacking computers and network access. Meanwhile, it comes equipped with 6 USB ports and an Ethernet port. This Epson color label terminal printer runs on Windows Embedded POS Ready 2009. The Epson C3400-LT printer is rugged and built for heavy commercial usage. Its LCD touchscreen display and the entire unit have been designed to be dust- and water-resistant.
Benefits of an All-in-One Label Terminal from Epson
The Epson ColorWorks C3400-LT is compact and easy to use. Simply use the touchscreen interface and quickly print as few (or as many) colorful tags and labels as needed. Using Epson DURAbrite Ultra Pigment Ink, the C3400-LT outputs colorfast, water-resistant labels that won't smudge or smear.
If you've been using a low resolution black thermal label printer, upgrading to the C3400-LT allows you to enjoy the same high speed printing features but with more attractive labels. Color labels allow you to color code inventory, draw attention to specific items, brand your labels, and create more attractive labels and tags. Color labeling can improve productivity, reduce mistakes, improve safety, add visual appeal, combat fraud, and much more.
The ColorWorks C3400-LT label terminal printer prints color labels as fast as 3.7 inches per second. It also accepts a variety of media types and sizes, making it a versatile label printing solution. For example, you can print name badges, tickets, clothing tags, wristbands, inventory labels, stickers, and more – all on demand. Order a free label sample to get an idea of the options available.
The Epson ColorWorks C3400-LT is also economical to use. It uses a single CMY ink cartridge with pigmented ink and prints labels on demand. The label terminal minimizes waste by eliminating the need to stockpile preprinted labels that may never be used.
Uses for the Epson ColorWorks C3400-LT Label Terminal
The C3400-LT label printer is ideal for printing any number of tags and labels including:
Security tags and badges
Visitor tags and badges
Name tags
Inventory labels
Manufacturing labels
Clothing tags
Stickers with barcodes
QR code stickers
Address and shipping labels
Event tickets
Wristbands
Specimen sample labels
Color-coded bin labels
Color-coded shelf labels
Epson's all-in-one color label printer, the C3400-LT, is an affordable industrial color labeling system suitable for manufacturers, retailers, grocers, bakers, laboratories, school administers, and health care providers alike. Place your order with Optimedia Labs today.