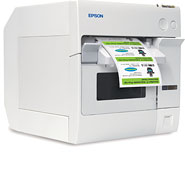 Epson TM-C3400 Label Printer – High-Speed Color Label Printing In-House
Epson recently entered the industrial labeling business with its SecurColor TM-C3400 label printer for the healthcare industry. The Epson ColorWorks C3400 color label printer is the same printer, rebranded for manufacturing, logistics, retail, security, attractions, and other industries. This high-speed industrial label printer allows you to instantly print barcodes, shipping labels, color labels, apparel tags, wristbands, tickets, shelf labels, and more instantly and affordably.
Simple Printing, Impressive Results
The Epson TM-C3400 color label printer is compact, making it suitable for small offices, warehouses, and retail spaces alike. It is easily adjustable to accept labels ranging from 1.2 inches to 4.4 inches across. It also has a rear-feed mechanism for large label rolls and fan-folded label stock. The TM-C3400 ColorWorks label printer from Epson also uses a single three-color ink cartridge, making consumable ink management a snap.
It's fast too, with speeds of up to 3.7 inches per second in high-speed mode. The Epson TM-C3400 label printer features three resolutions: 360 x 180 dpi, 360 x 360 dpi, and 720 x 360 dpi. Other useful features include an auto-cutter, black mark sensors, and paper-end sensors (for rolls of label stock).
The Epson TM-C3400 prints durable, color-coded labels on a wide range of media. Whether you need a colorfast, waterproof label for shipping or need a fast, in-house way to print branded tags, you'll find a large selection of blank labels, tags, wristbands, and other media compatible with the Epson 3400. Request a free label sample from Optimedia Labs and discover the possibilities.
Why Use Color in Industrial Labeling?
Epson's ColorWorks TM-C3400 color label printer takes industrial printing to a colorful new level. While color adds visual appeal to labels, it also adds functional value. For example, use different colors to mark inventory by model or product type. A blend of color-coded shelf tags and product images on bins and cartons allows your employees to quickly find or stock items. Adding color to your industrial labeling efforts can result in improved efficiency, fewer mistakes, and faster service.
Versatile Printing Options with the Epson TM-C3400 Printer
This color label printer is ideal for a variety of industrial applications including:
Color-coded inventory labels
Manufacturing labels
Security badges
Visitor badges
Special event wristbands
Food labels
Shelf tags
Apparel tags
Tickets
Shipping labels
Barcodes labels
Are you ready for a better industrial labeling solution? Order the Epson ColorWorks C3400 label printer today.