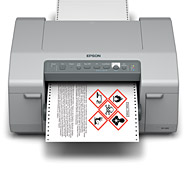 Epson ColorWorks C831 Wide Color Label Printer: Industrial-Strength Printing On Demand
Fast print speeds, high capacity ink cartridges, an 8-pin tractor feeder, and an 8-inch wide label capacity make the Epson ColorWorks C831 color label printer the perfect choice for GHS large format drum and chemical label printing.
The Epson ColorWorks C831 color label printer is also the first BS5609 certified inkjet printing solution. It is capable of printing labels as large as 8" by 22" at speeds of up to 16.5 pages per minute. Its label feeding system has been designed to reduce jams and facilitate high density barcode printing. Should a jam occur, the automatic paper release system makes clearing jams a simple matter.
Rather than using dye-based inks, the Epson ColorWorks C831 uses pigment-based inks that bind to label stock for superior stability and resistance to water, chemicals, smudges, and fading.
The Epson ColorWorks C831 label printer is built to last in even the most demanding industrial environments. This industrial printer can hold up to 44 pounds on its top and is dust- and water-resistant.
Versatile Large Label Printing with the Epson ColorWorks C831
The Epson C831 prints colorfast, durable labels on a wide range of media. Choose from BS5609-approved labels and continuous paper label rolls in varying shapes and sizes. Request a free label sample from Optimedia Labs and imagine the possibilities.
Quick Links for Epson GP-C831 Label Printer Pricing
This wide color label printer from Epson is an excellent choice for any industry requiring larger labels. Use the Epson C831 to print:
Large format drum labels
Chemical labels
Detergent labels
Carton labels
Hazmat labels
Hazardous waste labels
NFPA labels
GHS labels
Packaging labels
Barcodes
The Epson ColorWorks C831 wide color label printer is also an economical choice. It uses individual color ink cartridges, allowing you to replace only those ink cartridges that are low. It comes with a permanent print head and is practically maintenance-free. The printer features an expected print volume of 1.2 million labels. It performs quickly – like a thermal black printer but with the addition of beautiful colors.
Bring your large format industrial labels to life by ordering an Epson ColorWorks C831 label printer from Optimedia Labs.